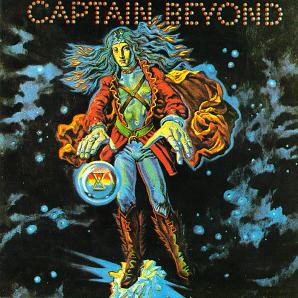 Founded in 1971, Captain Beyond were sort of a "supergroup" for their time, since they consisted of bassist Lee Dorman and guitarist Rhino from Iron Butterfly, drummer Bobby Caldwell (then with the Johnny Winter band and later with Keith Relf's Armageddon) and singer Rod Evans, once responsible for the vocals in the first 3 Deep Purple albums (and my favourites of the particular band, if you ask me).
Captain Beyond cut three albums, their eponymous first, "Sufficiently Breathless" and "Dawn Explosion" with a few line-up changes but keeping their nucleus duo of Bobby Caldwell and Lee Dorman. Their music can be described as progressive hard rock (mind you, I have an innate dislike for tags as such) played with exciting energy and dexterity. Their first album is definitely my favourite, since it oozes all these elements that a proper hard rock band of the time should have: the guitars and bass are awesome, the vocals are efficient (or, should I say sufficient), the drummer is simply out of this world. As for the songs, they are all crafted in a conceptual and neat way: full of heavy riffs, psychedelic interludes, arcane, spacey and often esoteric lyrics.
Some wieners often try to undermine Captain Beyond by comparing them to Deep Purple: there is absolutely no connection between the two bands, apart from the fact that Rod Evans once was a member of Deep Purple. Captain Beyond's sound is unique and their composing ability miles ahead than many of the bands of their time (even by contemporary standards).
So, get on with downloading their debut album and overindulge. At least, I did.
Enjoy!

Captain Beyond.rar